---
Hiring is a significant business decision. We all know that. But how do you innovate and hire in a remote-ready world? How do you ensure your candidates have a great experience while your recruiters hire faster and better? We can help!
We have come up with a comprehensive blog series, Hiring with Talview, that tells you how you can leverage Talview's AI-powered HRTech platform to hire at the speed of your best candidates! This blog post is part two of the five-part series that is sure to help you get to speed with all that Talview has to offer. For the previous part, click HERE.
---


Assessments - Evaluate the past & the potential
For years, assessments have been a significant part of the recruitment process as they help assess whether the personality, work style, knowledge, or skills of the candidate fits the job at hand and the company culture. They provide concrete, unbiased results, unlike resumes and interviews that are subjective and can be faked. A well-designed assessment can be standardized for all applicants, and the results of the tests can be used to make an informed decision when hiring.
In short, assessments help gauge the past (knowledge) and the potential of a candidate. Research shows that efficient talent assessment results in significant increase in productivity, cost savings and decreased attrition.
Assessments can be of various types like aptitude tests, cognitive assessments, etc. Today, organizations have also started adopting behavioral assessments to avoid hiring the wrong/bad candidate. Learn more about pre-hire behavioral assessments here.
With time, and the advancements in technology, few organizations have moved to conducting these assessments online owing to prominent benefits like saving significant amount of time, efforts and operational costs, innovative features like question randomization, more flexibility, transparency, security, real-time analysis, etc. All this put together ensures top-notch recruiter and candidate experience, which is now one of the most sought-after offerings. You can learn more about the 'Why' & 'How' of online assessments here.
Now that we have established how assessments can be a deal breaker when hiring the right fit for your organization, let's see what innovative features Talview provides to streamline the assessments part of the hiring process.
Research reveals that using talent assessments can produce productivity increases, cost savings, and decreased attrition.
Assessments with Talview
First things first — how do online assessments work?
With Talview's remote assessments platform, candidates either take the test directly when they apply online or are directed, via email on how to take the test. It is up to the organization as to how they want the candidates to take up the assessments.
The intuitive test-taking platform allows you to choose between a number of assessment formats such as coding tests, essay tests, typing and other skills tests, and much more. Additionally, after assessing technical skills and proficiency of candidates, you can take them straight to an AI-enabled video interview — all in a single, simple step! What more? Candidates can take up these assessments from anywhere, at anytime, with our mobile application!
Additionally, Talview's AI-led platform also ensures you experience a safe and secure testing environment with additional features like remote proctoring, Talview Secure Browser, 360° environment check, AI-enabled authentication, question paper watermarking, and more. You will learn more about all these super cool features in the upcoming blog posts in this series.
With Talview, the online assessment process is as simple as this:

Now, let us see some test types Talview offers for a safe, secure and wholesome test-taking experience:
Multiple Choice Questions
We know, they are everywhere. Multiple choice or objective response is a form of an objective assessment in which respondents are asked to select only correct answers from the choices offered as a list (refer the above image). They are one of the most preferred forms of assessments as they often require less time to administer for a given amount of material than would tests requiring written responses. MCQs are short and sharp which means that more of them can be posed in a test situation for a more thorough examination of how much a candidate understands about a given subject.
There can be only one right answer to a well-designed question, so evaluator bias is eliminated.
With Talview's platform, you can conduct MCQ assessments that are standardized and opt for cool features like question & answer randomization!
Essay Questions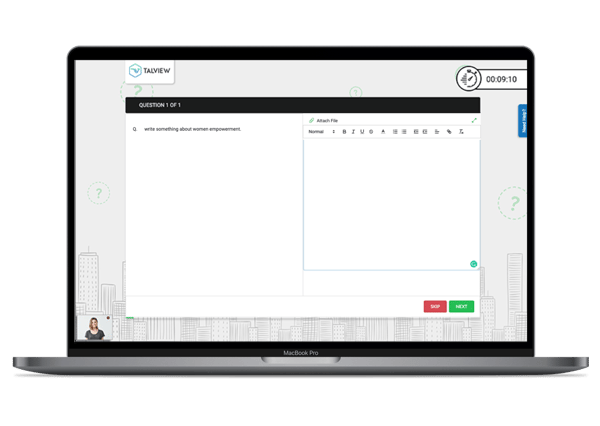 Essay questions are the most commonly used format to assess a candidate's ability to organize and present their ideas in a logical and coherent fashion. Well-constructed essay questions test higher-level knowledge than most objective questions. It is also considered a great way to analyze a person's problem solving ability as the questions are usually open-ended and require the candidates to think deeper.
Essay questions are mainly used to review individual responses from each candidate and gauge their ability to collect and organize their thoughts.
Talview's Online Essay Tests provide employers with a configurable tool to easily assess candidates' reading and writing skills.
Coding Tests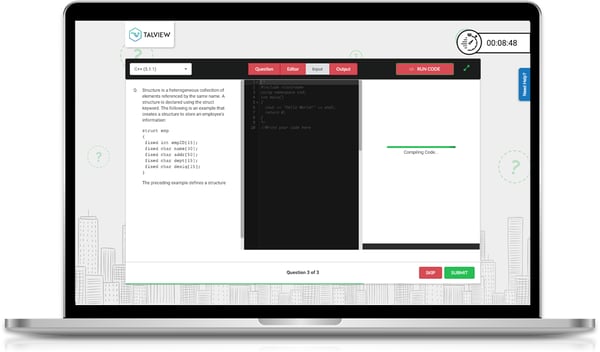 Coding Test is Talview's step towards achieving performance based evaluation and it has been helping many businesses find good programmers. You can create your own assessment questions and test cases or use expert-validated content for your coding skills test from Talview Talent Assessments. You can also test your candidates' coding ability with the compiler on the platform and watch them accomplish tasks assigned to them by you in real-time.
Talview's Online Programming Tests are designed to assess candidates in more than 52 programming languages including JavaScript, Java, Ruby, Python, and many more. Talview is pre-integrated with IBM Talent Assessments and IKM Assessments and gives an option to use some of the best assessments available in the market.
Talview's recent integration with Hackerearth will let you view your HackerEarth assessments on Talview Recruit Platform and invite candidates directly to HackerEarth assessments. Add HackerEarth assessments as a section to your workflow, invite candidates and evaluate them, all from within Talview's assessment platform.
You can hire the best programmers by seeing how they stack up for accuracy, quality and speed.
See how we helped our client organize a nationwide hackathon to find the best coders here.
Typing Tests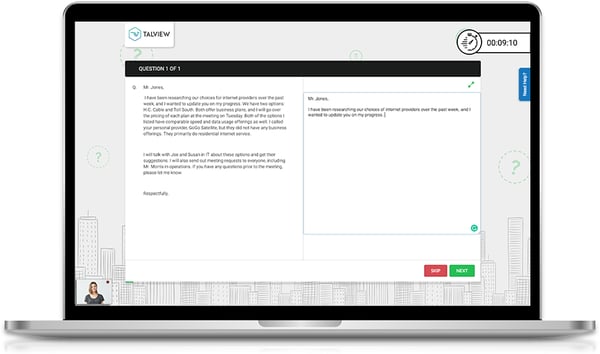 Having a good grasp of grammar and a professional writing style is an essential skill for any client-facing job. Make sure your staff will represent you well by evaluating your applicants' typing skills. Typing tests measure how quickly and accurately one can type in a given amount of time. Speed and accuracy are the key factors for determining your WPM (words per minute).
Everyone is looking for ways to be more productive in the workplace, and typing faster is a simple way to get more done.
With Talview's typing tests, once a passage is presented, candidates have a given amount of time to type the passage as quickly and accurately as possible. Once the time is up, the test is immediately scored and employers can view and analyze the results.
Multimedia Questions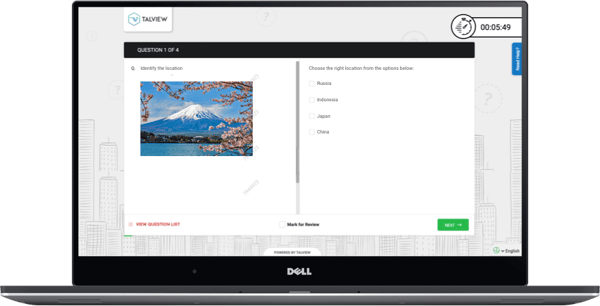 If you are looking to provide a wholesome test-taking experience, our platform's multimedia capability is the answer! A large percentage of the human brain dedicates itself to visual processing. Thus, using images, video and animations alongside a text stimulates the brain. Wouldn't you prefer seeing images and answering a question related to that than a plain vanilla textual question?
Multimedia has a positive impact on cognitive achievement, comprehension and application.
Talview's assessments platform with its multimedia capabilities allows you to customize your assessments using various audio-visual elements like images, audios, videos, etc.
It doesn't end here! Talview also offers Talview Exam Plus, an easy-to-use, enterprise-grade enhanced examination platform that helps institutions deliver safe and secure exams faster with its multi-question formats, remote proctoring and comprehensive reports for all your assessment needs.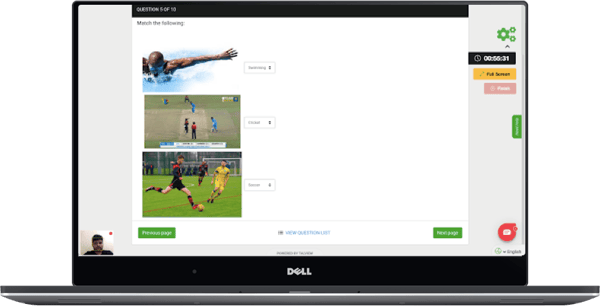 Some of the formats available are the following: True Or False, Matching, Multiple Choice Questions, Short Answer Questions, Essay Questions, Descriptive Questions, Numerical Questions, Calculated Questions, Drag and Drop Questions, Embedded Answers, Random Short Answer Matching, Select Missing Word, Coding Questions, etc. You can learn more about it here.
Online assessments give you the opportunity to reach a larger audience, while also ensuring the tests are fully secure and provide a stellar candidate experience. We, at Talview, can help you in doing exactly that! If you are curious to see how Talview's end-to-end assessment solutions work, get in touch with our team today!
Stay tuned for the next part of Hiring with Talview!