Virtual Campus Hiring - Things You Must Know
A recent survey by LinkedIn revealed that 71% of talent professionals believe that virtual hiring is the new standard and still continue to rely on this method for talent sourcing. However, the scale and dependencies of the virtual campus recruitment process have changed significantly after the COVID-19 pandemic, making it imperative to adopt more modern and advanced hiring solutions.
Online campus hiring is a great way for organizations to access and recruit top talent from universities worldwide. However, the process has its drawbacks and companies must be prepared to navigate the campus hiring challenges in a virtual space.
This virtual campus recruitment guide will provide hiring executives and talent acquisition specialists with a comprehensive knowledge of online campus recruitment so that they make informed hiring decisions and find successful hires.
What is Virtual Campus Recruitment?
Virtual campus recruitment is the process of hiring talent from universities and colleges using remote hiring methods. This includes interviewing and hiring potential candidates through online screening, video conferencing, online job fairs, and other digital means.
Why is Online Campus Recruitment Important for Your Organization?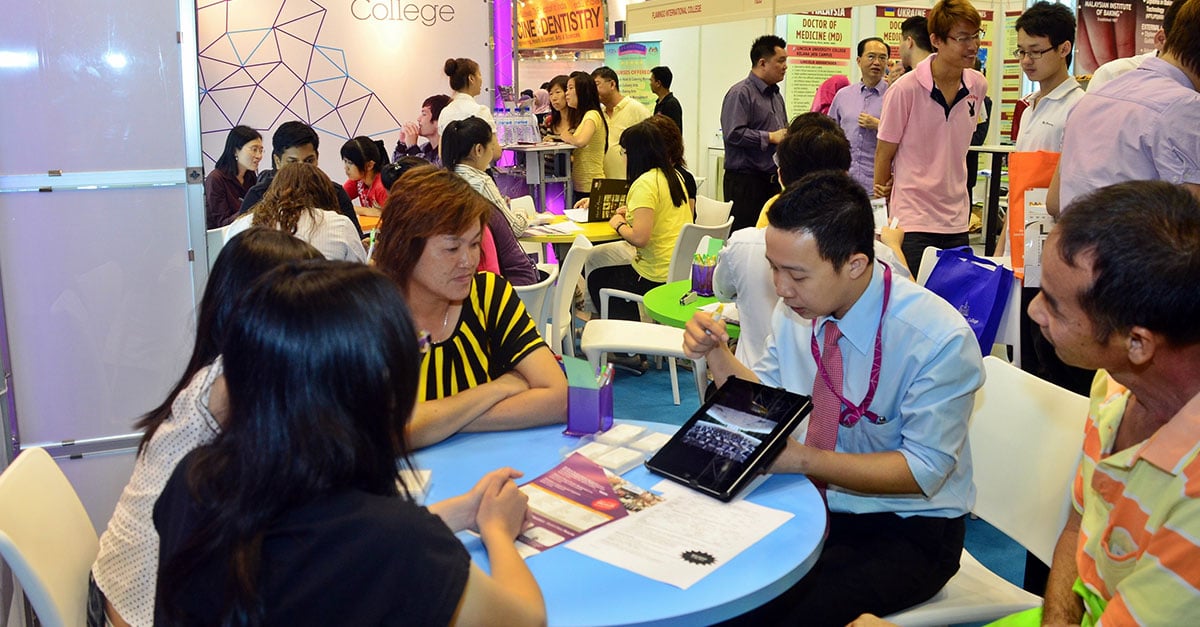 Saves Time & Cost
According to a LinkedIn report, 78% of talent acquisition professionals believe that virtual campus recruitment is a cost-effective and time-saving process as compared to traditional on-campus recruitment. This is because the on-campus requirement involves a lot of planning and resources. Companies also have to invest in traveling, accommodation, and other ancillary expenses while physically visiting campuses and hiring employees for educational campuses.
With online campus recruitment, organizations can eliminate all these costs and focus only on essential tasks in the hiring process. Additionally, with the assistance of online tools like AI-based Recruitment Chatbots and Automated Video interviews, companies can reduce the number of hours spent reviewing resumes and conducting interviews.
Provides Greater Access to Talent
Virtual campus recruitment gives organizations access to a vast talent pool that may not have been on their radar otherwise. It extends beyond physical boundaries and allows companies to extend their search for the most suitable candidates from multiple universities and colleges across the world.
Offers Better Employer Branding Opportunities
Organizations can capitalize on virtual campus recruitment to enhance their employer brand by leveraging social media platforms, digital marketing campaigns, and campus ambassador programs to reach out to potential candidates and create a positive impression of the organization's work culture.
Furthermore, offering online campus events like webinars or Q&A sessions with current employees is an excellent way to engage with the campus community and provide insights into your working environment.
Top Industries Leveraging Virtual Campus Recruitment
After the pandemic, virtual campus recruitment has been embraced across various industries. For example, many IT/ITes firms are looking to hire freshers via college campuses to help them build digital solutions for their clients.
Similarly, BPO, retail, healthcare, banking, and finance industries are also using virtual campus recruitment to staff up their business operations quickly.
What are the Top Challenges of Online Campus Recruitment?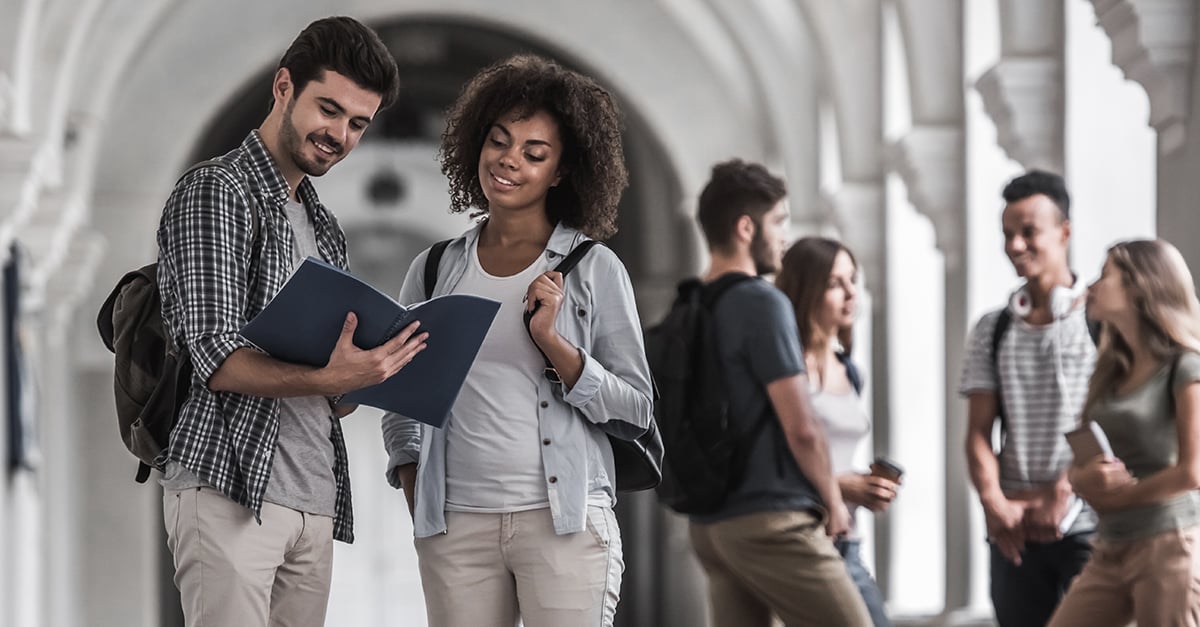 Unstructured Recruitment Process
While the online recruitment process is cost-effective and saves time, creating a streamlined online campus recruitment process can be a mammoth task. The candidate-employer ratio is usually high in this process, making it difficult for organizations to sort through hundreds of resumes without a dedicated file management system tool while maintaining a steady flow of the online recruitment process.
Maintaining a Good Candidate Experience
Organizations should remember that campus recruitments are more than simply recruiting top talent – it's about providing a good candidate experience. Candidates evaluate the company based on their hiring experience. Studies have shown that about 64% of talent drop the offer due to poor experience.
With the offline campus recruitment process, employers get ample opportunities to interact with the candidates personally, which adds to a good candidate experience. However, replicating the same experience in the virtual environment requires additional effort.
To ensure that campus hires have a positive experience, organizations should strive to provide sufficient information about their organization and job roles, respond promptly to candidates, and keep communication channels open throughout the recruitment cycle.

Lack of Data & Data-driven Processes
Many organizations that require high volume hiring use the same talent pool multiple times a year. This talent pool includes the data of candidates who were a good fit for the job but dropped the offer due to reasons beyond the employer's control at the time of hiring.
It is possible that the same candidates would re-apply for the same organization and a similar role at another time of the year. However, due to the lack of retained data, the talent has to go through the entire hiring process again, which may burden the candidate leading to dropouts. Such repetitions in campus hiring processes can result in companies losing quality talent.
To overcome such challenges, organizations need to create a secure database to retain information, which can allow such candidates to skip the initial processes, resulting in an improved time-to-hire and cost-to-hire per candidate.
Another challenge that companies face while online campus recruitment is efficiently gathering and processing data. Hence, organizations should invest in the right data management systems and analytics tools to track campus hires' previous performances and analyze recruitment data accurately.
Biases in the Hiring Process
As per a survey, 79% of HR professionals agree that unconscious bias exists in recruitment decisions. Biases can negatively impact the recruitment process, resulting in the loss of top talents.
Online biases can take various shapes and forms. Considering that many courses are taught online, candidates are at their home round-the-clock. The home factor brings with it subconscious biases in the form of social class, home environment, and even physical appearance.
In online interviews, the interviewers might judge the candidates based on the relative noise at home (home environment bias) and the furniture in their background (social class bias). Since the face is under maximum focus during video calls, this can also trigger beauty bias among interviewers.
Such biases can be avoided or minimized by sensitizing and training interviewers using past interview records and their past performances, using tools such as Talview's Hiring and AI proctoring solution.
Unable to Identify Good Fits
Identifying candidates who fit the company's core values and culture is a key part of the hiring process. During virtual campus recruitment, sometimes it can be difficult for recruiters to evaluate the soft skills and overall demeanour of a candidate without meeting them personally. Companies must develop effective strategies and leverage tools that help recruiters make well-informed decisions about campus hires.
How to Create an Effective Virtual Campus Recruitment Strategy?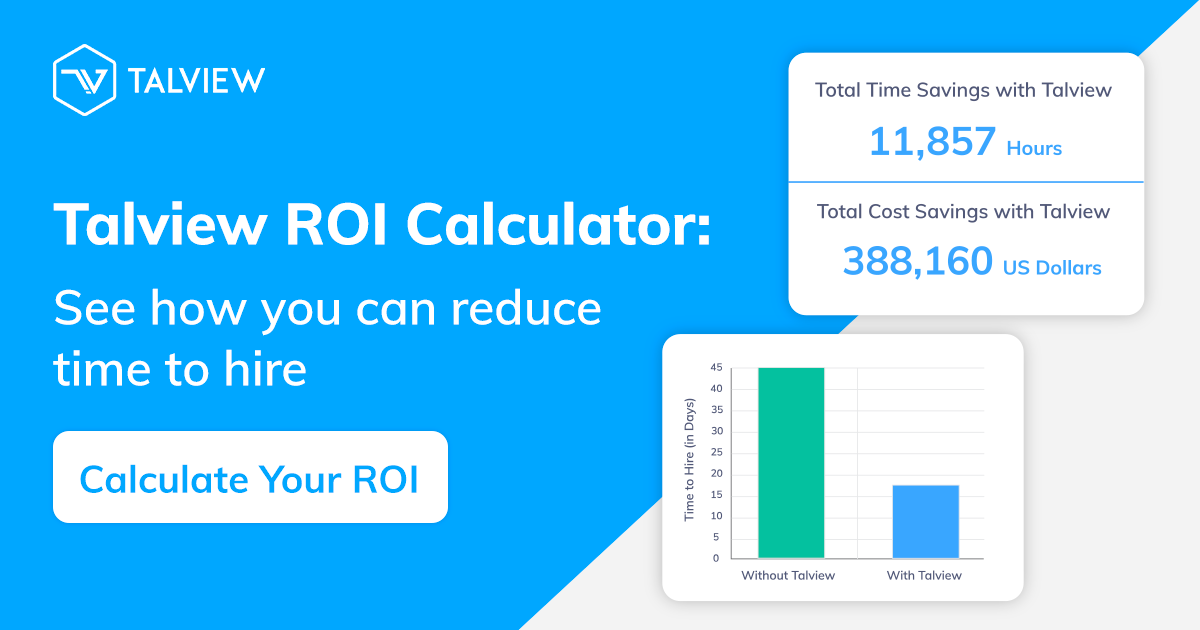 Define Your Hiring Goals
The first step in creating an effective campus hiring strategy is to define your hiring goals and objectives. This includes identifying the positions you intend to fill, the ideal candidate profile for these roles, the timeline for campus recruiting activities, defining the recruitment budget and ROI targets, and defining a strategy to build a strong employer brand.
HR professionals can also perform skill-gap analysis to understand the skills their workforce lack and define goals for their virtual campus recruitment strategy.
Create a Pool of Universities/ Colleges
Organizations should identify universities and colleges from which candidates can be onboarded while creating a campus hiring plan. Recruiters should consider factors such as quality of education, campus culture, student diversity, etc., to determine if the institution's cohort fits their recruitment goals well.
The different types of institutions you target, the more vast and diverse the campus talent pool you create.
Conduct Pre-placement Engagement
To ensure the success of your virtual campus recruiting strategy and attract quality talent, you need to drive pre-placement engagement.
As mentioned earlier, social media channels are indispensable tools for engaging with students and also building your employer brand. Organizing a pre-placement webinar that provides insight into your company's culture and career growth opportunities is an excellent way to spark the student's interest.
Another method of driving engagement is by organizing online contests like hackathons, ideathons, and case study competitions that offer rewards like a paid internship or walk-in interview opportunities to participants and winners. These events allow you to connect with the best students from different backgrounds and skill sets like coding, data analysis, designing, creative problem solving, and several others.
Pre-screen Candidates
It is important to narrow down your talent pool to save time. Virtual campus recruiters can also use assessment tools such as aptitude tests, online coding tests, and psychometric tests to pre-screen candidates based on their knowledge and abilities. This helps recruiters evaluate if the candidate has all the necessary skill sets even before inviting them for an interview.
However, conducting online tests comes with its own challenges, like cheating and lack of proctoring. To tackle this problem, Talview has developed an AI-powered proctoring solution that automates remote proctoring and ensures the integrity, security, and compliance of your entire screening process. 
Automate Interview Scheduling
According to a survey, 67% of HR professionals say scheduling a single interview takes about 30 minutes to 2 hours. One can only imagine how much time campus recruiters spend scheduling interviews for campus hires if they're using manual methods. On the other hand, automating the entire interview scheduling process can significantly narrow down the total time taken.
Talview's Video Interview Software helps recruiters schedule and conduct virtual campus interviews more efficiently. The software automates various workflows that enable campus recruiters to book multiple meetings in one go, reducing their manual efforts and allowing them to save about 70% of their resources.
Leverage Smart Technologies
The use of AI-driven technologies can help campus recruiters automate mundane tasks and streamline the campus hiring process. A recruitment chatbot, for example, can engage with many candidates simultaneously and provide answers to their queries about your campus recruitment program. It also helps capture candidate data that can be used to track campus recruiting performance.
Talview offers several AI-powered tools like AI Resume Screener, AI Chatbot, Video Interview Platform, and many more that campus recruiters can leverage to create innovative campus recruitment strategies. With Talview, HR professionals can gain insights into their hiring strategy through data-driven processes and make equitable decisions.
What is Campus Recruitment Software?
Campus recruitment software is an essential tool for hiring talent at scale from different institutions. It streamlines the campus hiring process and bridges the gap between campus talent and employers while also offering a good candidate experience.
Talview's Campus Recruiting Software helps campus recruiters manage the entire campus recruitment cycle, from job postings and pre-screening tests to virtual interviews and onboarding documents, using AI-powered algorithms. This makes campus recruiting faster and easier for recruiters while ensuring a better candidate experience.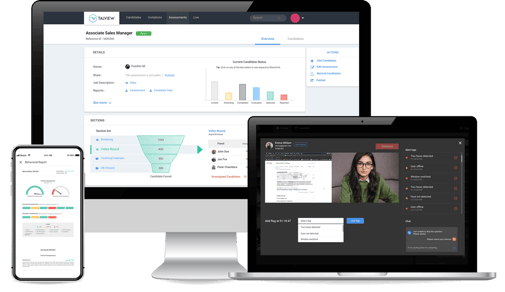 Here are the benefits recruiters can gain by leveraging Talview's Campus Recruiting Software:
End-to-end AI-powered hiring solutions to make the recruiting process data-driven and identify the best candidates for the job
Recruitment chatbot to offer seamless candidate experience that can integrate with any ATS, HRIS, or CRM system

Innovative assessment tools to evaluate candidate's critical thinking skills, decision making, creativity, and emotional intelligence

Video interview software that automates scheduling, generates searchable interview transcripts and summaries, and gauges soft skills

Online proctoring solutions with the capability to monitor exams, intervene, raise flags, and terminate exams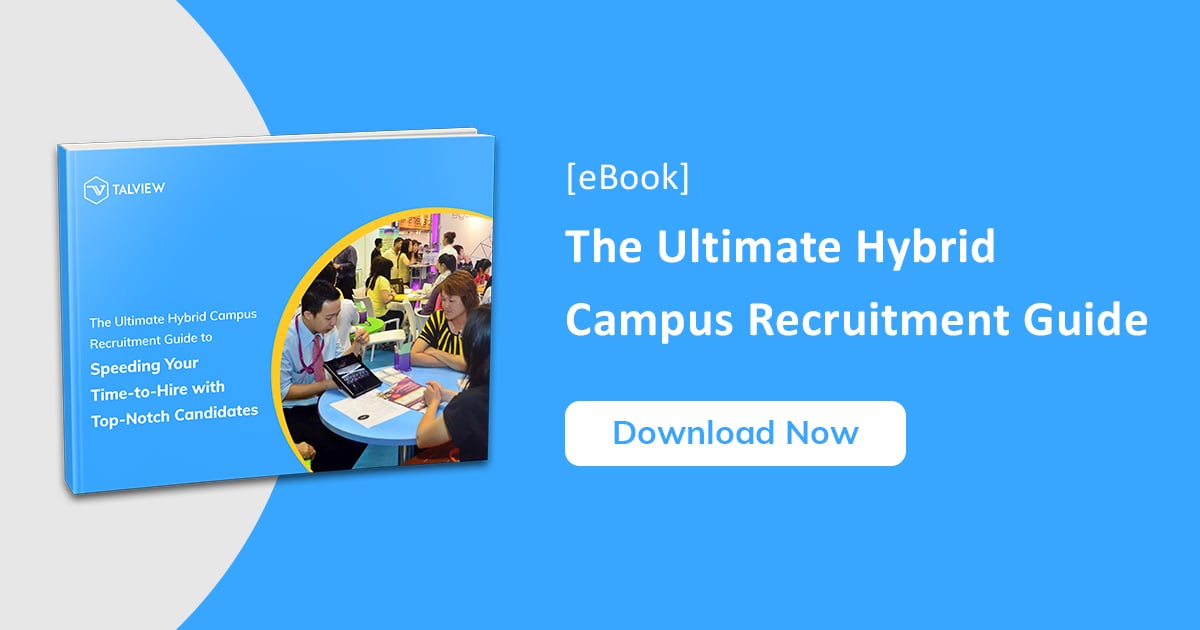 The online campus hiring process has several benefits over on-campus recruitment processes. However, it can be challenging and complex at times. Organizations can utilize campus recruitment software that leverages innovative technologies to streamline the entire virtual campus hiring process and ensure a great candidate experience.
Talview's Campus Recruiting Solutions offers comprehensive campus recruitment tools to automate virtual hiring workflow, making it easier to identify the right talent and optimize the virtual campus recruitment strategy.
FAQ
Is online campus recruitment better than offline recruitment?




Yes! Online campus recruitment reduces the cost and time required for all logistical, administrative, and paperwork tasks involved in the offline campus recruitment process and provides a more efficient way of engaging with campus hires.

What are the steps involved in the virtual campus hiring process?




The virtual campus recruitment process typically involves job postings, pre-screening of candidates, online assessments, scheduling and conducting video interviews, making offers to campus hires, and onboarding them into the organization.

How to measure the success of your online campus recruitment process?




Organizations can measure the success of their campus recruitment process by tracking applicant engagement, offer acceptance rate, dropout rates, time-to-hire, and cost-per-hire metrics.

What are some of the tools you can use to make virtual campus hiring more efficient?


Companies should leverage campus hiring software to automate their campus hiring workflow and make it more efficient.
Instahiring 2023 – Campus Edition
Focusing on large-scale campus hiring events, Talview's new Campus Hiring Module facilitates a seamless hyperscale campus hiring process.
Talview's Campus Recruitment Solutions offer comprehensive campus recruitment tools, such as assessment tools, video interview software, online proctoring solutions, and many more. With these tools, HR professionals can make their online campus recruitment hiring process data-driven and make informed decisions to hire the best talent possible for their organizations.
On January 19, Talview presents a day of learning to overcome the challenges of campus hiring at scale, networking with fellow professionals, and a very special meal. We hope you'll join us!